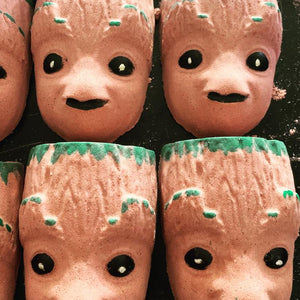 Messy Girl Co
Odds - Baby Groot Character Bath Bomb
Regular price
$6.50
$0.00
Odds are bath bombs that don't quite make the cut. They may have packaging that is has not sealed properly in production (These have been double packed) or slightly damaged but overall still look amazing and does not effect their performance. 
Kids and big kids at heart will love this Baby Groot character Bath Bomb!

Full of vibrant bright rainbows on the inside! Simply gently place into your bath tub and watch all the colours stream out! Made with skin loving goodness of clays and oils. Scented in Monkey Farts
Ingredients: Bicarbonate Soda, Citric Acid, Sodium lauryl sulfoacetate, Kaolin Clay, Creme Of Tartar, Sweet almond oil, Fragrance oil, Polysorbate80, Aqua, CI74180, CI75100, CI42090. 
Discontinue use if irritation occurs, Keep away from eyes, Do not consume, May contain small parts. Small Children should always be supervised in the bath tub.
---
More from this collection